We can take a look under the hood
An Express Lube & Auto Repair Inspection is a comprehensive Vehicle Inspection advising the current state of the vehicle. It is a great way to receive independent advice and peace of mind when buying a used car in a private sale or auction or when your new car warranty is coming to an end.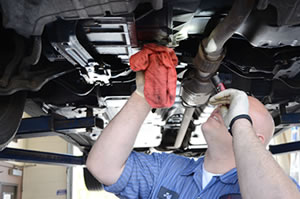 Get a vehicle safety check and road test before you buy
up to 206 checks per car
same-day feedback, written report within one day
fixed rated, no hidden costs
impartial advice to help you negotiate a price
available for cars, vans and motorhomes
The cost of an inspection depends on the engine size and the type of inspection.
Just call 702-433-5823.
.
Getting an oil and filter change helps keep your engine clean and properly lubricated so it can run more efficiently. Visit your Las Vegas Express Lube & Auto Repair center and you'll be able to get the maximum value out of your oil change. Each oil change offers high-quality oil and filter products that are right for your vehicle and can even help improve your gas mileage and extend the life of your vehicle. .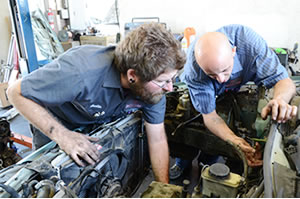 When to change your oil is an inexact science. It depends on driving patterns and driving conditions more than anything else. Most manufactures recommend an oil change every 5,000 to 7,500 miles. However, if you read the fine print, what most of us think as "Normal" driving is actually "Severe" driving. Las Vegas falls under the "Severe" driving conditions.
In a typical week, does your driving include:
Stop-and-go traffic or extensive idling?
Short trips of less than five miles?
Towing a trailer or hauling heavy materials?
Extreme heat (more than 90 degrees)?
Extreme cold (less than 10 degrees)?
Extreme humidity?
If you answered yes to any one of these questions, you are a severe driver. All maintenance manuals recommend changing your oil every 3000 miles or 3 months in these conditions. If you do not like that frequent of an oil change interval you could make the jump to a premium full synthetic. We have Royal Purple full synthetic motor oil. Using that oil you can go as far as 6000 miles on just one oil change. Now this does not mean that once you use this oil that you can just close your hood and not think about your engine compartment for the next couple of months. You should always check your fluids and do a general look over of your motor. If you have no desire to get your hands dirty doing that, or have no idea what you are looking at, you can bring it to us. We will pop the hood, check all the fluids and give you a current health status of your car. Just think of it as a way to keep your peace of mind between services.
.
We take care for your vehicle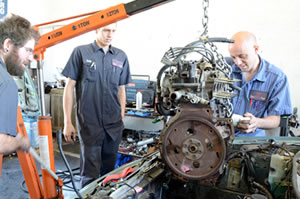 Transmission problems can be time consuming and costly. With years of experience we are able to diagnose those issues and then provide you with accurate assessment of the next steps.
We know transmissions and when the time comes when you need transmission service, no one does it better than your Express Lube & Auto Repair expert technicians.
If our initial diagnosis calls for service, you can be sure it'll be done right Express Lube & Auto Repair.
Reseal Service
Your vehicle's only problem could be that your automatic transmission is not retaining fluid with no other driveability problems. You may only need our Express Lube & Auto Repair Reseal Service. The Express Lube & Auto Repair Reseal Service for an automatic transmission includes:
Removal of your transmission from your vehicle and disassembly sufficient to perform the service.
Replacement of all external seals and select components by expert EXPRESS LUBE & AUTO REPAIR technicians to correct the fluid retention problem.
The transmission is reinstalled, fluid refilled to the full level with fresh, clean transmission fluid and any external adjustments are made as needed. Your vehicle is then road tested to ensure the transmission is functioning properly and your car, truck or SUV is ready to take you anywhere you need to go.
Transmission Service
Our signature transmission rebuild service is the difference and gives us the confidence to offer you the best nationwide warranty in the business. Whether you drive a car, truck or SUV. Manual or automatic transmission. Foreign or domestic. Luxury or economy. We know your transmission.
Clutch Service
Drive a manual transmission? We know those too! Our Transmission Multi-Point Inspection check may find your problem is with your clutch and cannot be corrected by external adjustments, repair or replacement of a clutch-related component. Your certified Express Lube & Auto Repair expert technician will then:
Remove your vehicle's transmission.
Inspect the clutch disc, pressure plate, flywheel and related components.
Reinstall of the transmission.
Refill with fresh, clean fluid.
Perform a lift check to ensure proper clutch installation and adjustment.
Replace any required components to meet Express Lube & Auto Repair's exacting standards.
Your vehicle is then road tested to ensure proper clutch operation, and your car, truck or SUV is ready to go for miles and miles to come.
We can fine-tune your car
From the brake pedal to hydraulic brake fluid, brake master cylinder to power brake booster, drum brakes to disc brakes and electronic anti-lock brake sensors, Our technicians know every part of your brake system inside and out and can perform brake repair on any make and model.
Your vehicle's brake system has one job – to stop your vehicle. But it takes several key components to deliver that singular end result. To bring a vehicle to a halt, three things are necessary: leverage, hydraulic force and friction. We all think our brakes are functioning great, until we're in a situation where they're put to the ultimate test. What may seem like an 'ok' or 'feels fine to me' braking outcome now, could very quickly become an immediate need to repair or replace brake parts. The good news for you: Express Lube & Auto Repair has all the brake services to get your brakes operating like they did when your car first rolled off the assembly line.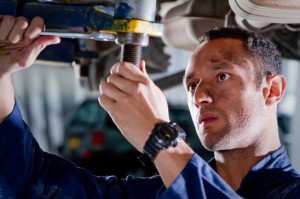 Getting a Brake Repair in Las Vegas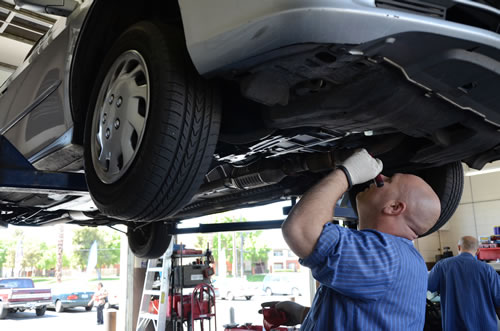 Here you can see what we have to offer and what you'll pay for that
| Oil Changes (up to 5 qts) | For Car | For Truck |
| --- | --- | --- |
| Full Service Oil Change | From $24.99 |  From $28.99 |
| Full Service High Mileage Oil | From $49.99 | From $54.99 |
| Full Service Synthetic Oil | From $59.99 | From $68.99 |
| Royal Purple Oil Change | From $89.99 | From $99.99 |
| European Car 0W40 or 5W40 | From $100 | From $100 |
| 15w40 Extra Heavy Duty Diesel | From $59.99 | From $99.99 |
| MOBILE 1 Synthetic Oil | From $89.99 | From $99.99 |
| OIL & FILTER | From $19.99 | From $24.99 |
| Performance | For Car | For Truck |
| --- | --- | --- |
| Air Filter (Improves gas mileage & performance) | From $19.99 | From $19.99 |
| Cabin Air Filter (Filter the Air you breathe) | From $24.99 | From $24.99 |
| Wiper Blades (each) | From $9.99 | From $9.99 |
| Bulb Replacement | From $11.99 | From $11.99 |
| Head Light Replacement | From $24.99 | From $24.99 |
| Preventative Maintenance | For Car | For Truck |
| --- | --- | --- |
| Fuel Injection/ Emission Service | From $59.99 | From $59.99 |
| Oil System Cleaning Service | From $19.99 | From $19.99 |
| Fuel Filter Service | From $59.99 | From $59.99 |
| Differential Fluid Service | From $69.99 | From $69.99 |
| Serpentine Belt Replacement (No V-Belt) | From $89.99 | From $99.99 |
| Manual Transmission Fluid Service | From $69.99 | From $69.99 |
| Transmission Fluid Exchange | From $120 | From $120 |
| Transmission Fluid Exchange & Filter | $170 | $170 |
| Radiator Flush | From $59.99 | From $69.99 |
| Power Steering Fluid Service | From $49.99 | From $49.99 |
| Service | For Car | For Truck |
| --- | --- | --- |
| Good- Premium | $29.99 | $29.99 |
| Full-Service Oil Change | $34.99 | $34.99 |
| Better-Delux High Milage | $47.99 | $47.99 |
| Better- Synthetic Blend | $59.99 | $59.99 |
| Best- Royal Purple Synthetic | $89.99 | $89.99 |
| State Inspection | $27.95 | $27.95 |
| Tire Rotation | $14.99 | $14.99 |
| Brakes Starting @ | $139.99 | $149.99 |
| Windshield, Wipers/Blades from | From $22.99 | From $22.99 |
| Serpentine Belt Service from | From $89.99 | From $89.99 |
| Battery Service | $21.99 | $21.99 |
| Air Filters | $19.99 | $19.99 |
| Fuel Filters | $59.99 | $59.99 |
| A/C Service R134a 2 lbs | $99.99 | $99.99 |
| A/C service R-12 call | Call | Call |
| Oil system flush | $69.99 | $69.99 |
| Radiator Drain & Fill | $89.99 | $89.99 |
| Cooling System Service | $79.99 | $79.99 |
| Manual Transmission Drain & Fill from | From $89.99 | From $89.99 |
| Automatic Transmission Service | $149.99 | $149.99 |
| Power Steering Service | $47.99 | $47.99 |
| Brake Fluid Exchange Service | $69.99 | $69.99 |
| Differential Service | $95.99 | $95.99 |
| 3 Part Fuel System Service | $104.99 | $104.99 |