We can fine-tune your car
From the brake pedal to hydraulic brake fluid, brake master cylinder to power brake booster, drum brakes to disc brakes and electronic anti-lock brake sensors, Our technicians know every part of your brake system inside and out and can perform brake repair on any make and model.
Your vehicle's brake system has one job – to stop your vehicle. But it takes several key components to deliver that singular end result. To bring a vehicle to a halt, three things are necessary: leverage, hydraulic force and friction. We all think our brakes are functioning great, until we're in a situation where they're put to the ultimate test. What may seem like an 'ok' or 'feels fine to me' braking outcome now, could very quickly become an immediate need to repair or replace brake parts. The good news for you: Express Lube & Auto Repair has all the brake services to get your brakes operating like they did when your car first rolled off the assembly line.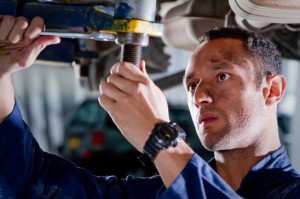 Getting a Brake Repair in Las Vegas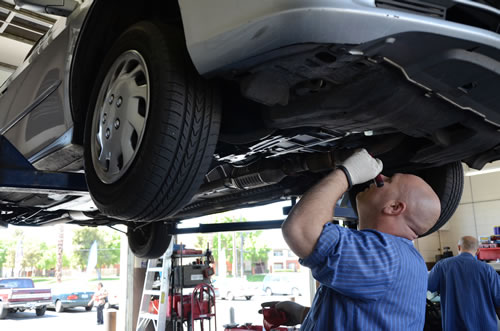 Brakes are the crucial part of every vehicle, which demands timely inspection and maintenance. If the problem is not inspected regularly, then the consequences could be detrimental. So, if you encounter any of the following conditions with your car brakes, then you need to get them repaired as soon as possible.
If the brakes pedal get pressed more than usual. It can be due to fluid level of low brake; contaminated brake fluid or worn out brake pads.
If you hear any irregular sound while you press the brakes. There are the possibilities that some component is loose or broken.
If the brakes pull or grab your vehicles to left or right. It may be due to the bad brake disc or bad brake pads.
If you require much force to press the brakes than usual. This firmness in the breaks can be a result of vacuum problems or obstruction in the brake line.
If the brake warning light is on. This may be due to any problem in the brakes.
Your vehicle can encounter any of these problems with brakes. Whatever may be the problem, it must be ensured that you are getting your vehicle brakes inspected and repaired by the experienced service providers. There are many Las Vegas auto repair shops who claim their services to be the best and least expensive. But, all the brake services don't provide the required efficiency in the inspection and repair.
Let us tell you some qualities that you should look for while selecting the particular brake repair service provider:
From how much time they are dealing in Brake Repairs?
Do they have experienced and skilled technicians who can ensure high quality brake repair.
Are they equipped with all the required tools for inspecting and resolving the brake problem?
Do they provide personal attention to each customer?
What are the views of their previous customers about them?
Here we would like to recommend one brake repair service provider who is known for the quality services that they provide for brake repairs. Express Lube & Auto Repair is one of those car repair shops that provides brake repair in Las Vegas.
Like many other brake repair service providers, the technicians at Express Lube & Auto Repair would not focus on the needless repairs to get more money out of your pocket; but will focus on particular repair needs that are a must. No doubt, they will check for all types of brake problems but will undertake repairs for the problematic parts only. All the technicians here at Express Lube & Auto Repair have required qualification and experience in brake repairing discipline.
Provided with the latest equipment for diagnosing and repairing, the experts ensure the high quality repair for every type of brake problem. Knowing the ins and outs of the vehicle brakes, they not only provide the efficient services but also ensure quicker services. So, if you want high quality brake repair services at competitive rates then visit them now.