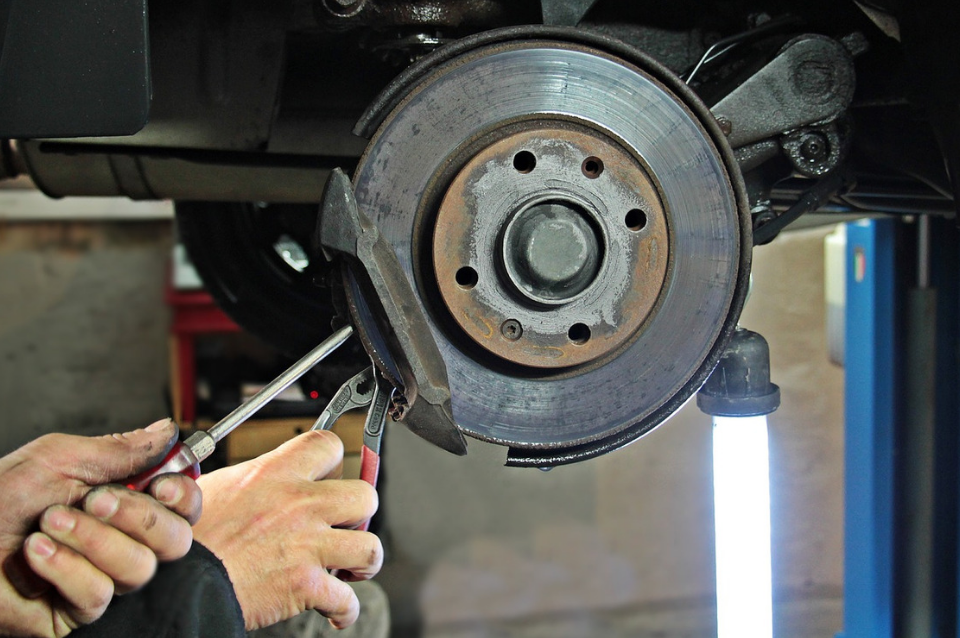 GETTING HIGH-QUALITY BRAKE REPAIR SERVICE IN LAS VEGAS FROM EXPRESS LUBE & AUTO REPAIR
Simply put, if your brakes are not functioning properly, then you, your family, and others on the road run the risk of an accident. This is why Express Lube & Auto Repair offers free brake inspections. We can check your brakes quickly, even during a routine oil change. And if you think that they aren't working properly, it is critical that you schedule a repair with a trusted mechanic today. At Express Lube & Auto Repair, we pride ourselves on not only providing reliable, top-quality auto repair work, but also on the high standards we set for transparency and customer service.
We can fine-tune your car
From the brake pedal to hydraulic brake fluid, brake master cylinder to power brake booster, drum brakes to disc brakes and electronic anti-lock brake sensors, Our technicians know every part of your brake system inside and out and can perform brake repair on any make and model.
Our Courtesy Inspection Brake Check
At Express Lube & Auto Repair, we make it a point to check every customer's brakes as part our courtesy inspection. Our ASE-certified technicians don't just inspect your brake pads, they examine the rotors and brake fluid too, to ensure that your brakes are functioning as they should.
Your vehicle's brake system has one job – to stop your vehicle. But it takes several key components to deliver that singular end result. To bring a vehicle to a halt, three things are necessary: leverage, hydraulic force, and friction. We all think our brakes are functioning great until we're in a situation where they're put to the ultimate test. What may seem like an 'ok' or 'feels fine to me' braking outcome now, could very quickly become an immediate need to repair or replace brake parts. The good news for you: Express Lube & Auto Repair has all the brake services to get your brakes operating like they did when your car first rolled off the assembly line.

Common indicators of a brake problem include
The brake light
Brake noises (squeaking or screeching).
A burning smell when the brakes are applied
Rumbling or vibration in the steering wheel.
The need to press the brake harder than usual.
If you are experiencing any of these signs in your vehicle, Express Lube & Auto Repair is ready to assist you. Our experienced technicians know that brake functionality extends beyond brake pads. And as always, our customers have access to our free shuttle service if they need to get somewhere while their brakes are being repaired.
At Express Lube & Auto Repair, we want our Las Vegas customers to have the opportunity to feel comfortable in their vehicle. You can leave the repairs and services to our professionals, but please don't hesitate to ask us questions about why a service is needed or how it occurred. Give us a call at 702-433-5823, and we will be happy to speak with you. Here is some valuable information on brake issues and corrective services Express Lube & Auto Repair offers.
Brake Pad & Shoe Replacement
Brake pad problems can usually be identified by squealing brakes. If your brake pads deteriorate completely, you'll hear a grinding metal-on-metal sound when braking, meaning that it's too late and you're ruining your rotors or drums! Those with knowledge of auto repair may be able to fix this at home, but you should always see an auto repair professional immediately if you have brake problems.
Resurface Rotors
In a disc brake system, rotors are attached to your vehicle's wheels. When the brake pads grip the rotor, they bring both the rotor and wheels to a stop. However, the friction causes grooves and cracks to appear over time. Resurfacing brings the rotor back to a "like-new" condition, reducing squealing and wobbling. Express Lube & Auto Repair will give your rotors a thorough inspection and recommend your best course of action.
Caliper Replacement
The brake caliper houses your brake pads and fits around the rotor like a clamp, pressing the pads against the rotor when you brake. A brake caliper problem could cause uneven braking, making your car slide forward when you brake. Uneven braking can also cause your vehicle to slide out of control in bad weather conditions, so contact Express Lube & Auto Repair as soon as possible.
Brake Hoses
A brake hose is a tube carrying pressurized brake fluid from the master cylinder to the brakes. A crushed hose can cause a lagged or slow brake, and a leak in the hose can cause the brake, or the entire brake system, to fail. These don't need to be replaced often but should be replaced at the first sign of cracking or wear.
Brake Fluid Flushes
Brake fluid will absorb water from the air over time, causing the brake system to become less effective and the fluid to become corrosive, possibly damaging the system. It is important to perform a brake fluid flush regularly to ensure that your vehicle is using fresh fluid. Talk to our technicians at Express Lube & Auto Repair about when it's time for a brake fluid flush.
Anti-Lock Brake System
Anti-lock Brake Systems (ABS) ensure that the wheels don't stop rotating during braking, preventing the car from skidding and offering greater control. If your ABS light comes on, visit Express Lube & Auto Repair where we will be happy to diagnose and fix the problem.
READY TO SCHEDULE A BRAKE SERVICE? WE'RE READY TO HEAR FROM YOU. CALL YOUR LOCAL EXPRESS LUBE & AUTO REPAIR CAR SHOP TODAY!
Getting a Brake Repair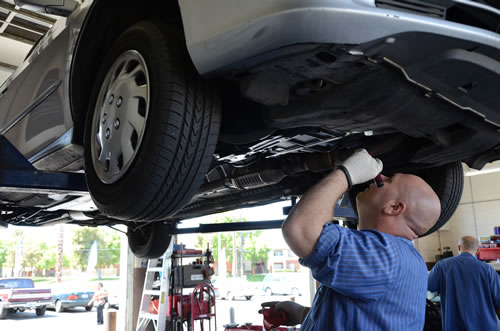 Brakes are the crucial part of every vehicle, which demands timely inspection and maintenance. If the problem is not inspected regularly, then the consequences could be detrimental. So if you encounter any of the following conditions with your car brakes, then you need to get them repaired as soon as possible.
If the brakes pedal get pressed more than usual. It can be due low brake fluid level; contaminated brake fluid or worn out brake pads.
If you hear any irregular sound while you press the brakes. There are the possibilities that some component is loose or broken.
If the brakes pull or grab your vehicle to left or right. It may be due to the bad brake disc or bad brake pads.
If you require more force to press the brakes than usual. This firmness in the breaks can be a result of vacuum problems or obstruction in the brake line.
If the brake warning light is on. This may be due to any problem with the brakes.
Your vehicle can encounter any of these problems with brakes. Whatever may be the problem, it must be ensured that you are getting your vehicle brakes inspected and repaired by the experienced service providers. There are many Las Vegas auto repair shops who claim their services to be the best and least expensive. But not all the brake services provide the required efficiency in the inspection and repair.
Let us tell you some qualities that you should look for while selecting the particular brake repair service provider:
How long they are dealing with Brake Repairs?
Do they have experienced and skilled technicians who can ensure high-quality brake repair?
Are they equipped with all the required tools for inspecting and resolving the brake problem?
Do they provide personal attention to each customer?
What are the views of their previous customers about them?
Here, we would like to recommend one brake repair service provider who is known for the quality services that they provide for brake repairs. Express Lube & Auto Repair is one of those car repair shops that provide brake repair in Las Vegas.
---
Like many other brake repair service providers, the technicians at Express Lube & Auto Repair would not focus on the needless repairs to get more money out of your pocket; but will focus on particular repair needs that are a must. No doubt, they will check for all types of brake problems but will undertake repairs for the problematic parts only. All the technicians here at Express Lube & Auto Repair have required qualification and experience in brake repairing discipline.
Provided with the latest equipment for diagnosing and repairing, the experts ensure the high-quality repair for every type of brake problem. Knowing the ins and outs of the vehicle brakes, they not only provide the efficient services but also ensure quick services. So, if you want high-quality brake repair services at competitive rates then visit them now.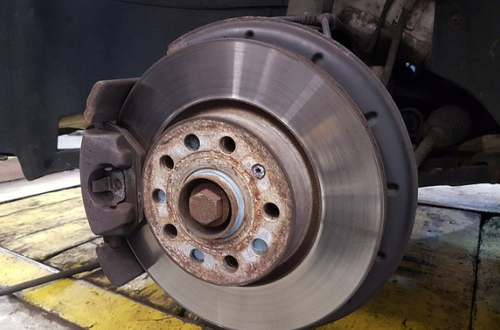 Brakes are the most important safety feature of any vehicle. Majority of vehicular accidents are caused by problems related to brakes. That's why you should never ignore the importance of car brakes. Have it repaired as soon as you notice problems.
When you need to get your brakes repaired in Las Vegas, Express Lube and Auto Repair will give you the dealership-quality service you deserve, also you'll receive the personal attention not given by the other brake repair shops in Vegas. We not only specialize in brakes but are also experts in ABS and all other related systems. Our expert technicians are ASE certified and our repair shop is equipped with the latest high-tech machinery, lathes, and diagnostic equipment and tools, to ensure that the job is done perfectly the first time, with virtually no repeat repairs and no follow-ups.
Our Las Vegas auto repair service begins with brake inspections. By inspecting, we will show you and explain what parts of your brakes are in need of replacements. Our skilled and professional mechanics will not only show you the components but will also explain what your car requires. We guarantee full customer satisfaction.
Simple tasks like replacing brake pads or adding brake fluid can be done by any technician in Las Vegas, but our highly-trained and professional brake technicians know every vehicle's brake system and will examine everything from the drums, rotors, pads, shocks, calipers, struts, sensors, to the hub bearings. Whether you have an American, Asian, or a European car, or a light-truck, we will get the job done! Our technicians are experienced and highly trained in getting every brake job done perfectly every time.
Our staff at Express Lube and Auto Repair are known for their reliability and quality of service. For safety and minimal cost of brake repairs, we recommend having your vehicle's brakes examined once a year or as needed. It is not only easier but also cheaper to replace brake parts that are slightly worn out, as compared to the brakes that are badly damaged.
Similar to engine oil, brake fluid also plays an important part in the daily operations of a vehicle. The process of brake fluid exchange is much like an oil change. If the brake fluid breaks down, the ability of its flow and compress lowers; therefore, it is very important that the brake fluid remains within the manufacturer's specifications. Our skilled and expert technicians will help you determine whether it's time for a brake fluid exchange, and will also inform you on whether the fluid has been contaminated by grit, dirt, rust, or water. You will receive a full brake fluid exchange and flush using a high-quality fluid that will restore brake pedal response.
To keep the vehicle in the best condition possible, we advise all our customers to have important fluids either topped off when needed or replaced when necessary. Our professional and reliable brake repair service will allow you to drive with confidence, knowing that your brakes are fit and fine.