We can take a look under the hood
An Express Lube & Auto Repair Inspection is a comprehensive Vehicle Inspection advising the current state of the vehicle. It is a great way to receive independent advice and peace of mind when buying a used car in a private sale or auction or when your new car warranty is coming to an end.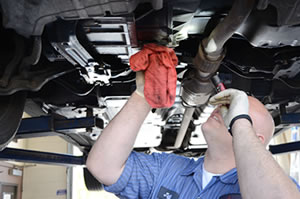 Get a vehicle safety check and road test before you buy
up to 206 checks per car
same-day feedback, written report within one day
fixed rated, no hidden costs
impartial advice to help you negotiate a price
available for cars, vans and motorhomes
The cost of an inspection depends on the engine size and the type of inspection.
Just call 702-433-5823.
.
CALL YOUR LOCAL EXPRESS LUBE & AUTO REPAIR TODAY
Getting an oil and filter change helps keep your engine clean and properly lubricated so it can run more efficiently. Visit your Las Vegas Express Lube & Auto Repair center and you'll be able to get the maximum value out of your oil change. Each oil change offers high-quality oil and filter products that are right for your vehicle and can even help improve your gas mileage and extend the life of your vehicle.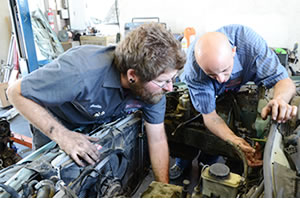 Perhaps no part of automotive maintenance is as routine as getting your oil and your oil filter changed. Most of us accept this as a minor expense that comes a few times a year, but few drivers appreciate just what can go wrong when an oil change is not done properly. Our professionals have time and again serviced cars that have started to suffer because of careless oil changes.
When to change your oil is an inexact science. It depends on driving patterns and driving conditions more than anything else. Most manufacturers recommend an oil change every 5,000 to 7,500 miles. However, if you read the fine print, what most of us think as "Normal" driving is actually "Severe" driving. Las Vegas falls under the "Severe" driving conditions.
In a typical week, does your driving include:
Stop-and-go traffic or extensive idling?
Short trips of less than five miles?
Towing a trailer or hauling heavy materials?
Extreme heat (more than 90 degrees)?
Extreme cold (less than 10 degrees)?
Extreme humidity?
If you answered yes to any one of these questions, you are a severe driver. All maintenance manuals recommend changing your oil every 3000 miles or 3 months in these conditions. If you do not like that frequent of an oil change interval you could make the jump to a premium full synthetic. We have Royal Purple full synthetic motor oil. Using that oil you can go as far as 6000 miles on just one oil change. Now, this does not mean that once you use this oil that you can just close your hood and not think about your engine compartment for the next couple of months. You should always check your fluids and do a general look over of your motor. If you have no desire to get your hands dirty doing that or have no idea what you are looking at, you can bring it to us. We will pop the hood, check all the fluids and give you a current health status of your car. Just think of it as a way to keep your peace of mind between services.
If it's time for you to consider an oil change, trust your car to professionals who place as much care in oil changes as they do in engine replacements. At Express Lube & Auto Repair, that's exactly the kind of thorough and detail-oriented service we provide to every customer who comes to our shops. We're ready to walk you through your oil change options, address any foreseen issues, and get you back on the road as swiftly and efficiently as possible.
Not Your Average Oil Change
If you own a car, you already have some idea what your oil change experience will be like as soon as your oil light comes on. For 34 years, Express Lube & Auto Repair has been trying to change that idea and offer customers an uncommon level of service and comfort during their oil changes.
With an Express Lube & Auto Repair oil change, you have access to
The highest-quality fluids and filters on the market
Our clean, comfortable lobby
Free Wi-Fi
Our free shuttle service
Our courtesy inspection to check the health of your vehicle
READY TO LEARN MORE ABOUT OUR OIL AND FILTER CHANGE SERVICES? CONTACT EXPRESS LUBE & AUTO REPAIR TODAY
The Importance of Oil Change in Las Vegas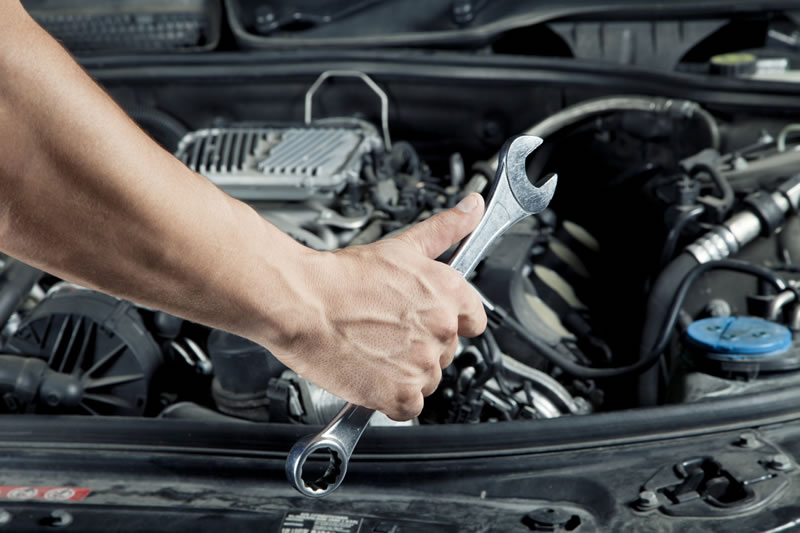 It's important to have the oil in your car changed on a regular basis. It keeps the engine clean and lubricated, meaning it runs more efficiently. This kind of thing is vital in an environment like Las Vegas, where cars are really put through their paces by the heat and arid air.
How often you need to change the oil depends heavily on how you drive and where, but a good rule of thumb is to have it changed every 5,000 miles or so. Las Vegas definitely puts a lot of stress on your car so the recommended mileage between changes comes down to 3,000 miles or 3 months, whichever happens sooner.
When you get your oil changed you should consider using a premium or synthetic oil. Going with a quality oil like this means it lasts longer so you don't have to get it changed as much. Remember that you get what you pay for. Try and find value more than anything; a quality product at a good price. Shop around and see what the best deal for you is. There are some oils that, even in the conditions of Las Vegas, can last a good 6000 miles before it needs to be changed.
There are some auto repairs in Las Vegas that combine an oil change with general maintenance. It's possible that a problem with your car could mean the oil needs to be changed more frequently. Make sure you check the fluids in your car on a regular basis to make sure that it's running smoothly. If you notice a problem in the fluid levels, especially with the oil, then don't hesitate to take it in and get it looked at. Or just take the car in to have the fluids checked if you aren't sure what bad fluid levels look like.
Las Vegas is filled with quality garages you can take your car. If you have trouble with one garage then just move on to another. Shop around to find a good deal and get a quote that matches your budget and needs. Don't let yourself be talked into a premium service if you don't want one. Regular oil can do the job just fine if it's all you want to buy.
Try and find an established and friendly garage to have an oil change in Las Vegas. The more professional the garage the more professional the people working in it will be. You'll be less likely to get a poor quality service. Consider doing a little reading ahead of time to find the best garages near you.
Getting your oil changed doesn't need to be a hassle no matter where you are. The first step is finding the right garage. Listen to the mechanics and the advice they have to offer. Get your oil checked and changed at least once every three months if you don't do a lot of driving, and every 5000 miles if you do. Oil keeps your car running properly so don't this small but significant aspect of car maintenance.
We take care for your vehicle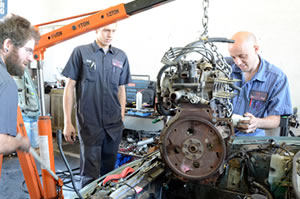 Transmission problems can be time-consuming and costly. With years of experience, we are able to diagnose those issues and then provide you with an accurate assessment of the next steps.
We know transmissions and when the time comes when you need transmission service, no one does it better than your Express Lube & Auto Repair expert technicians.
If our initial diagnosis calls for service, you can be sure it'll be done right Express Lube & Auto Repair.
Our signature transmission rebuild service is the difference and gives us the confidence to offer you the best nationwide warranty in the business. Whether you drive a car, truck or SUV. Manual or automatic transmission. Foreign or domestic. Luxury or economy. We know your transmission.
Express Lube & Auto Repair in Las Vegas, NV 89122 knows how to fix the problem. Our knowledgeable auto experts will diagnose the situation and help you make a decision. Leave the dirty work to us!
Our competitively priced transmission services include:
Reseal Service
Your vehicles only problem could be that your automatic transmission is not retaining fluid with no other drivability problems. You may only need our Express Lube & Auto Repair Reseal Service. The Express Lube & Auto Repair Reseal Service for an automatic transmission includes:
Removal of your transmission from your vehicle and disassembly sufficient to perform the service.
Replacement of all external seals and select components by expert EXPRESS LUBE & AUTO REPAIR technicians to correct the fluid retention problem.
The transmission is reinstalled, fluid refilled to the full level with fresh, clean transmission fluid and any external adjustments are made as needed. Your vehicle is then road tested to ensure the transmission is functioning properly and your car, truck or SUV is ready to take you anywhere you need to go.
Automatic Transmission
Automatic Transmissions shift between gears automatically to optimize driving, and changes gears based on the driver's throttle pedal, vehicle speed, engine speed, and vehicle load. Typical automatic transmissions have 4-5 forward gear ratios, a Reverse, Park, and Neutral gear. Shifting gears occur automatically once the car is in Drive and there is no need for a clutch pedal or gear shift like there is in a Manual Transmission. Automatic transmission repair is complicated based on all the components that make it up, and you need to have an automatic transmission issues properly assessed by auto mechanics. Call 702-433-5823 to talk to the mechanics of Express Lube & Auto Repair about your transmission problems.
Clutches

Drive a manual transmission? We know those too!
When shifting gears, the clutch engages and disengages from the flywheel and transfers the torque through the transmission. Clutches should help your vehicle start and shift gears smoothly. The clutch in your car receives a lot of wear and can eventually wear out. If your clutch begins slipping irregularly or is making noises that are raising suspicion, our Transmission Multi-Point Inspection check may find your problem is with your clutch and cannot be corrected by external adjustments, repair or replacement of a clutch-related component. Your certified Express Lube & Auto Repair expert technician will then:
Remove your vehicle's transmission.
Inspect the clutch disc, pressure plate, flywheel and related components.
Reinstall of the transmission.
Refill with fresh, clean fluid.
Perform a lift check to ensure proper clutch installation and adjustment.
Replace any required components to meet Express Lube & Auto Repair's exacting standards.
Your vehicle is then road tested to ensure proper clutch operation, and your car, truck or SUV is ready to go for miles and miles to come.
Four-Wheel Drive Transmission
A four-wheel (4×4) drive vehicle has differential gears, both front and rear axles, and a transfer case attached to the transmission. Four-wheel drive vehicles demand maintenance on the transfer case, front differentials, rear differentials, and transmission fluids. Visit us at 5400 E Tropicana Ave for service on your four-wheel drive transmission services.
Front-Wheel Drive Transmission
If your vehicle has Front-wheel drive, the engine drives the front wheels only. The power is routed through the transmission to the final drive where it is split and sent to the two front wheels through the drive axles. The engine, transmission, and additional hardware are all located in the front of the car. If you are in need, Express Lube & Auto Repair of Las Vegas, NV will gladly repair front-wheel drive transmission vehicles.
Manual Transmission
Driving a vehicle with a Manual Transmission requires using the clutch pedal and gear shift to manually shift gears based on the speed of the vehicle. Manual transmissions have been built with anywhere from two to eight gears. Front-wheel drive and rear-wheel drive are the two main configurations for manual transmissions. Typically, manual transmissions require less maintenance then automatic transmissions. At Express Lube & Auto Repair, our auto mechanics can diagnose your vehicle and then recommend the transmission repair or transmission service you need to ensure safety and improve the lifetime of your vehicle.
Transfer Cases
A transfer case is a part of a four-wheel drive system found in four-wheel drive and all-wheel-drive vehicles. The transfer case receives power from the transmission and sends it to both the front and rear axles. This can be done with a set of gears, but the majority of transfer cases manufactured today are chain driven. The transfer case is connected to the transmission and also to the front and rear axles by means of drive shafts. Trust the automotive experts at Express Lube & Auto Repair for all your transmission repairs.
Service, Diagnose and Repair
Transmission repair is not something to take lightly. The transmission is connected to key parts of your vehicle and needs to be working properly for your safety. Transmission services include replacing filters and draining fluids to prevent transmission damage. Typical transmission issues that may lead to repair may include shifting issues, slipping, stalling, fluid leaking, and the service light turns on. If you are concerned that you may need transmission repair, don't hesitate to schedule an appointment at Express Lube & Auto Repair today.
Replacement
In motor vehicles, the transmission usually refers to the gearbox, which uses gears and gear trains to transmit speed and torque from a rotating power source to another device. You can have your car's transmission replaced with a new, rebuilt, remanufactured, repaired or used transmission. For more information contact Express Lube & Auto Repair in Las Vegas, NV. Our experienced service technicians can help you make the best decision for your vehicle and your wallet.
---
Express Lube & Auto Repair Location
A Little About Las Vegas
Las Vegas etymology comes from a Spanish origin which means "Meadows". Looking back, the place featured abundant wild grass as well as desert spring waters for westward travelers. It is said that the earliest visitors were Paleo Indians who traveled 10,000 years ago, leaving behind petroglyphs. Anasazi and Paiute Tribes followed at least 2,000 years ago. It was then Rafael Rivera, a young Mexican Scout who discovered and encountered the valley in 1829. Also in the same year, Trader Antonio Armijo led a 60-man party along the Spanish Trail to Los Angeles California and found out how grassy the area was. It was in 1844, where John C. Fremont arrived. His writings helped invite pioneers to the area. To date, the Downtown Las Vegas Fremont is named after him.
The climate of Las Vegas is a subtropical hot desert because of the Mojave Desert where it lies. Usually, it has long and very hot summers; warm transitional seasons; and short, mild to chilly waters. It has an abundant sunshine throughout the year averaging to 310 sunny days. Bright sunshine occurs 86% of all daylight hours. There is a very scarce rainfall with only an average of 4.2 in (110 mm) dispersed between roughly 26 to 27 total rainy days per year. In all of North America, it is the sunniest, driest and least humid location.
Demographics says that the racial composition is made up of 62.1% white (47.9% for Non-Hispanic Whites and 14.2% for Hispanic Whites), 11.1 % for Black or African American, 6.1% for Asian (Filipino-3.3%, Chinese -0.7%, Korean -0.5%, Japanese-0.4%, Indian- 4%, Vietnamese, 0.2%, Thai -0.2%) 0.7% for Native American and 0.6% for Native Hawaiian and other Pacific Islander.
Aside from the high-end hotels and entertainment areas, Vegas has also 68 parks, 4 golf courses, 123 playgrounds, 23 softball fields, 10 football fields, 10 dog parks, 6 community centers, 4 senior centers and 109 skate parks.
We can fine-tune your car
GETTING HIGH-QUALITY BRAKE REPAIR SERVICE IN LAS VEGAS FROM EXPRESS LUBE & AUTO REPAIR
Simply put, if your brakes are not functioning properly, then you, your family, and others on the road run the risk of an accident. This is why Express Lube & Auto Repair offers free brake inspections. We can check your brakes quickly, even during a routine oil change. And if you think that they aren't working properly, it is critical that you schedule a repair with a trusted mechanic today. At Express Lube & Auto Repair, we pride ourselves on not only providing reliable, top-quality auto repair work, but also on the high standards we set for transparency and customer service.
We can fine-tune your car
From the brake pedal to hydraulic brake fluid, brake master cylinder to power brake booster, drum brakes to disc brakes and electronic anti-lock brake sensors, Our technicians know every part of your brake system inside and out and can perform brake repair on any make and model.
Our Courtesy Inspection Brake Check
At Express Lube & Auto Repair, we make it a point to check every customer's brakes as part our courtesy inspection. Our ASE-certified technicians don't just inspect your brake pads, they examine the rotors and brake fluid too, to ensure that your brakes are functioning as they should.
Your vehicle's brake system has one job – to stop your vehicle. But it takes several key components to deliver that singular end result. To bring a vehicle to a halt, three things are necessary: leverage, hydraulic force, and friction. We all think our brakes are functioning great until we're in a situation where they're put to the ultimate test. What may seem like an 'ok' or 'feels fine to me' braking outcome now, could very quickly become an immediate need to repair or replace brake parts. The good news for you: Express Lube & Auto Repair has all the brake services to get your brakes operating like they did when your car first rolled off the assembly line.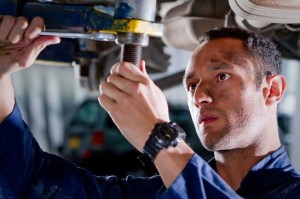 Common indicators of a brake problem include
The brake light
Brake noises (squeaking or screeching).
A burning smell when the brakes are applied
Rumbling or vibration in the steering wheel.
The need to press the brake harder than usual.
If you are experiencing any of these signs in your vehicle, Express Lube & Auto Repair is ready to assist you. Our experienced technicians know that brake functionality extends beyond brake pads. And as always, our customers have access to our free shuttle service if they need to get somewhere while their brakes are being repaired.
At Express Lube & Auto Repair, we want our Las Vegas customers to have the opportunity to feel comfortable in their vehicle. You can leave the repairs and services to our professionals, but please don't hesitate to ask us questions about why a service is needed or how it occurred. Give us a call at 702-433-5823, and we will be happy to speak with you. Here is some valuable information on brake issues and corrective services Express Lube & Auto Repair offers.
Brake Pad & Shoe Replacement
Brake pad problems can usually be identified by squealing brakes. If your brake pads deteriorate completely, you'll hear a grinding metal-on-metal sound when braking, meaning that it's too late and you're ruining your rotors or drums! Those with knowledge of auto repair may be able to fix this at home, but you should always see an auto repair professional immediately if you have brake problems.
Resurface Rotors
In a disc brake system, rotors are attached to your vehicle's wheels. When the brake pads grip the rotor, they bring both the rotor and wheels to a stop. However, the friction causes grooves and cracks to appear over time. Resurfacing brings the rotor back to a "like-new" condition, reducing squealing and wobbling. Express Lube & Auto Repair will give your rotors a thorough inspection and recommend your best course of action.
Caliper Replacement
The brake caliper houses your brake pads and fits around the rotor like a clamp, pressing the pads against the rotor when you brake. A brake caliper problem could cause uneven braking, making your car slide forward when you brake. Uneven braking can also cause your vehicle to slide out of control in bad weather conditions, so contact Express Lube & Auto Repair as soon as possible.
Brake Hoses
A brake hose is a tube carrying pressurized brake fluid from the master cylinder to the brakes. A crushed hose can cause a lagged or slow brake, and a leak in the hose can cause the brake, or the entire brake system, to fail. These don't need to be replaced often but should be replaced at the first sign of cracking or wear.
Brake Fluid Flushes
Brake fluid will absorb water from the air over time, causing the brake system to become less effective and the fluid to become corrosive, possibly damaging the system. It is important to perform a brake fluid flush regularly to ensure that your vehicle is using fresh fluid. Talk to our technicians at Express Lube & Auto Repair about when it's time for a brake fluid flush.
Anti-Lock Brake System
Anti-lock Brake Systems (ABS) ensure that the wheels don't stop rotating during braking, preventing the car from skidding and offering greater control. If your ABS light comes on, visit Express Lube & Auto Repair where we will be happy to diagnose and fix the problem.
READY TO SCHEDULE A BRAKE SERVICE? WE'RE READY TO HEAR FROM YOU. CALL YOUR LOCAL EXPRESS LUBE & AUTO REPAIR CAR SHOP TODAY!
Getting a Brake Repair in Las Vegas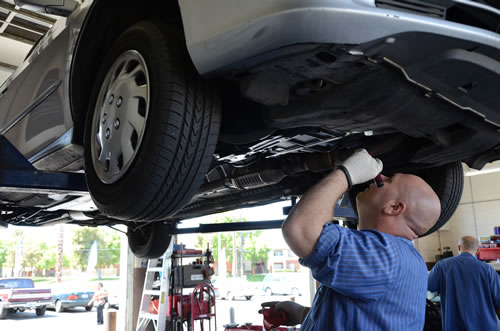 Brakes are the crucial part of every vehicle, which demands timely inspection and maintenance. If the problem is not inspected regularly, then the consequences could be detrimental. So if you encounter any of the following conditions with your car brakes, then you need to get them repaired as soon as possible.
If the brakes pedal get pressed more than usual. It can be due low brake fluid level; contaminated brake fluid or worn out brake pads.
If you hear any irregular sound while you press the brakes. There are the possibilities that some component is loose or broken.
If the brakes pull or grab your vehicle to left or right. It may be due to the bad brake disc or bad brake pads.
If you require more force to press the brakes than usual. This firmness in the breaks can be a result of vacuum problems or obstruction in the brake line.
If the brake warning light is on. This may be due to any problem with the brakes.
Your vehicle can encounter any of these problems with brakes. Whatever may be the problem, it must be ensured that you are getting your vehicle brakes inspected and repaired by the experienced service providers. There are many Las Vegas auto repair shops who claim their services to be the best and least expensive. But not all the brake services provide the required efficiency in the inspection and repair.
Let us tell you some qualities that you should look for while selecting the particular brake repair service provider:
How long they are dealing with Brake Repairs?
Do they have experienced and skilled technicians who can ensure high-quality brake repair?
Are they equipped with all the required tools for inspecting and resolving the brake problem?
Do they provide personal attention to each customer?
What are the views of their previous customers about them?
Here, we would like to recommend one brake repair service provider who is known for the quality services that they provide for brake repairs. Express Lube & Auto Repair is one of those car repair shops that provide brake repair in Las Vegas.
---
Like many other brake repair service providers, the technicians at Express Lube & Auto Repair would not focus on the needless repairs to get more money out of your pocket; but will focus on particular repair needs that are a must. No doubt, they will check for all types of brake problems but will undertake repairs for the problematic parts only. All the technicians here at Express Lube & Auto Repair have required qualification and experience in brake repairing discipline.
Provided with the latest equipment for diagnosing and repairing, the experts ensure the high-quality repair for every type of brake problem. Knowing the ins and outs of the vehicle brakes, they not only provide the efficient services but also ensure quick services. So, if you want high-quality brake repair services at competitive rates then visit them now.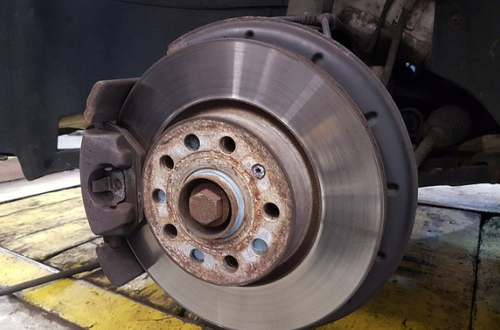 Brakes are the most important safety feature of any vehicle. Majority of vehicular accidents are caused by problems related to brakes. That's why you should never ignore the importance of car brakes. Have it repaired as soon as you notice problems.
When you need to get your brakes repaired in Las Vegas, Express Lube and Auto Repair will give you the dealership-quality service you deserve, also you'll receive the personal attention not given by the other brake repair shops in Vegas. We not only specialize in brakes but are also experts in ABS and all other related systems. Our expert technicians are ASE certified and our repair shop is equipped with the latest high-tech machinery, lathes, and diagnostic equipment and tools, to ensure that the job is done perfectly the first time, with virtually no repeat repairs and no follow-ups.
Our Las Vegas auto repair service begins with brake inspections. By inspecting, we will show you and explain what parts of your brakes are in need of replacements. Our skilled and professional mechanics will not only show you the components but will also explain what your car requires. We guarantee full customer satisfaction.
Simple tasks like replacing brake pads or adding brake fluid can be done by any technician in Las Vegas, but our highly-trained and professional brake technicians know every vehicle's brake system and will examine everything from the drums, rotors, pads, shocks, calipers, struts, sensors, to the hub bearings. Whether you have an American, Asian, or a European car, or a light-truck, we will get the job done! Our technicians are experienced and highly trained in getting every brake job done perfectly every time.
Our staff at Express Lube and Auto Repair are known for their reliability and quality of service. For safety and minimal cost of brake repairs, we recommend having your vehicle's brakes examined once a year or as needed. It is not only easier but also cheaper to replace brake parts that are slightly worn out, as compared to the brakes that are badly damaged.
Similar to engine oil, brake fluid also plays an important part in the daily operations of a vehicle. The process of brake fluid exchange is much like an oil change. If the brake fluid breaks down, the ability of its flow and compress lowers; therefore, it is very important that the brake fluid remains within the manufacturer's specifications. Our skilled and expert technicians will help you determine whether it's time for a brake fluid exchange, and will also inform you on whether the fluid has been contaminated by grit, dirt, rust, or water. You will receive a full brake fluid exchange and flush using a high-quality fluid that will restore brake pedal response.
To keep the vehicle in the best condition possible, we advise all our customers to have important fluids either topped off when needed or replaced when necessary. Our professional and reliable brake repair service will allow you to drive with confidence, knowing that your brakes are fit and fine.
Here you can see what we have to offer and what you'll pay for that
| Oil Changes (up to 5 qts) | For Car | For Truck |
| --- | --- | --- |
| Full Service Oil Change | From $24.99 |  From $28.99 |
| Full Service High Mileage Oil | From $49.99 | From $54.99 |
| Full Service Synthetic Oil | From $59.99 | From $68.99 |
| Royal Purple Oil Change | From $89.99 | From $99.99 |
| European Car 0W40 or 5W40 | From $100 | From $100 |
| 15w40 Extra Heavy Duty Diesel | From $59.99 | From $99.99 |
| MOBILE 1 Synthetic Oil | From $89.99 | From $99.99 |
| OIL & FILTER | From $19.99 | From $24.99 |
| Performance | For Car | For Truck |
| --- | --- | --- |
| Air Filter (Improves gas mileage & performance) | From $19.99 | From $19.99 |
| Cabin Air Filter (Filter the Air you breathe) | From $24.99 | From $24.99 |
| Wiper Blades (each) | From $9.99 | From $9.99 |
| Bulb Replacement | From $11.99 | From $11.99 |
| Head Light Replacement | From $24.99 | From $24.99 |
| Preventative Maintenance | For Car | For Truck |
| --- | --- | --- |
| Fuel Injection/ Emission Service | From $59.99 | From $59.99 |
| Oil System Cleaning Service | From $19.99 | From $19.99 |
| Fuel Filter Service | From $59.99 | From $59.99 |
| Differential Fluid Service | From $69.99 | From $69.99 |
| Serpentine Belt Replacement (No V-Belt) | From $89.99 | From $99.99 |
| Manual Transmission Fluid Service | From $69.99 | From $69.99 |
| Transmission Fluid Exchange | From $120 | From $120 |
| Transmission Fluid Exchange & Filter | $170 | $170 |
| Radiator Flush | From $59.99 | From $69.99 |
| Power Steering Fluid Service | From $49.99 | From $49.99 |
| Service | For Car | For Truck |
| --- | --- | --- |
| Good- Premium | $29.99 | $29.99 |
| Full-Service Oil Change | $34.99 | $34.99 |
| Better-Delux High Milage | $47.99 | $47.99 |
| Better- Synthetic Blend | $59.99 | $59.99 |
| Best- Royal Purple Synthetic | $89.99 | $89.99 |
| State Inspection | $27.95 | $27.95 |
| Tire Rotation | $14.99 | $14.99 |
| Brakes Starting @ | $139.99 | $149.99 |
| Windshield, Wipers/Blades from | From $22.99 | From $22.99 |
| Serpentine Belt Service from | From $89.99 | From $89.99 |
| Battery Service | $21.99 | $21.99 |
| Air Filters | $19.99 | $19.99 |
| Fuel Filters | $59.99 | $59.99 |
| A/C Service R134a 2 lbs | $99.99 | $99.99 |
| A/C service R-12 call | Call | Call |
| Oil system flush | $69.99 | $69.99 |
| Radiator Drain & Fill | $89.99 | $89.99 |
| Cooling System Service | $79.99 | $79.99 |
| Manual Transmission Drain & Fill from | From $89.99 | From $89.99 |
| Automatic Transmission Service | $149.99 | $149.99 |
| Power Steering Service | $47.99 | $47.99 |
| Brake Fluid Exchange Service | $69.99 | $69.99 |
| Differential Service | $95.99 | $95.99 |
| 3 Part Fuel System Service | $104.99 | $104.99 |