We take care for your vehicle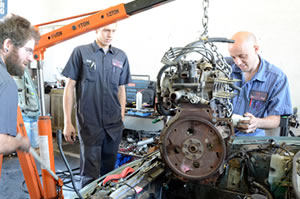 Transmission problems can be time consuming and costly. With years of experience we are able to diagnose those issues and then provide you with accurate assessment of the next steps.
We know transmissions and when the time comes when you need transmission service, no one does it better than your Express Lube & Auto Repair expert technicians.
If our initial diagnosis calls for service, you can be sure it'll be done right Express Lube & Auto Repair.
Reseal Service
Your vehicle's only problem could be that your automatic transmission is not retaining fluid with no other driveability problems. You may only need our Express Lube & Auto Repair Reseal Service. The Express Lube & Auto Repair Reseal Service for an automatic transmission includes:
Removal of your transmission from your vehicle and disassembly sufficient to perform the service.
Replacement of all external seals and select components by expert EXPRESS LUBE & AUTO REPAIR technicians to correct the fluid retention problem.
The transmission is reinstalled, fluid refilled to the full level with fresh, clean transmission fluid and any external adjustments are made as needed. Your vehicle is then road tested to ensure the transmission is functioning properly and your car, truck or SUV is ready to take you anywhere you need to go.
Transmission Service
Our signature transmission rebuild service is the difference and gives us the confidence to offer you the best nationwide warranty in the business. Whether you drive a car, truck or SUV. Manual or automatic transmission. Foreign or domestic. Luxury or economy. We know your transmission.
Clutch Service
Drive a manual transmission? We know those too! Our Transmission Multi-Point Inspection check may find your problem is with your clutch and cannot be corrected by external adjustments, repair or replacement of a clutch-related component. Your certified Express Lube & Auto Repair expert technician will then:
Remove your vehicle's transmission.
Inspect the clutch disc, pressure plate, flywheel and related components.
Reinstall of the transmission.
Refill with fresh, clean fluid.
Perform a lift check to ensure proper clutch installation and adjustment.
Replace any required components to meet Express Lube & Auto Repair's exacting standards.
Your vehicle is then road tested to ensure proper clutch operation, and your car, truck or SUV is ready to go for miles and miles to come.
---
Express Lube & Auto Repair Location
A Little About Las Vegas
Las Vegas etymology comes from a Spanish origin which means "Meadows". Looking back, the place featured abundant wild grass as well as desert spring waters for westward travelers. It is said that the earliest visitors were Paleo Indians who traveled 10,000 years ago, leaving behind petroglyphs. Anasazi and Paiute Tribes followed at least 2,000 years ago. It was then Rafael Rivera, a young Mexican Scout who discovered and encountered the valley in 1829. Also in the same year, Trader Antonio Armijo led a 60-man party along the Spanish Trail to Los Angeles California and found out how grassy the area was. It was in 1844, where John C. Fremont arrived. His writings helped invite pioneers to the area. To date, the Downtown Las Vegas Fremont is named after him.
The climate of Las Vegas is a subtropical hot desert because of the Mojave Desert where it lies. Usually, it has long and very hot summers; warm transitional seasons; and short, mild to chilly waters. It has an abundant sunshine throughout the year averaging to 310 sunny days. Bright sunshine occurs 86% of all daylight hours. There is a very scarce rainfall with only an average of 4.2 in (110 mm) dispersed between roughly 26 to 27 total rainy days per year. In all of North America, it is the sunniest, driest and least humid location.
Demographics says that the racial composition is made up of 62.1% white (47.9% for Non-Hispanic Whites and 14.2% for Hispanic Whites), 11.1 % for Black or African American, 6.1% for Asian (Filipino-3.3%, Chinese -0.7%, Korean -0.5%, Japanese-0.4%, Indian- 4%, Vietnamese, 0.2%, Thai -0.2%) 0.7% for Native American and 0.6% for Native Hawaiian and other Pacific Islander.
Aside from the high-end hotels and entertainment areas, Vegas has also 68 parks, 4 golf courses, 123 playgrounds, 23 softball fields, 10 football fields, 10 dog parks, 6 community centers, 4 senior centers and 109 skate parks.